My boys and I decided to trek out to Langley on a sunny Friday afternoon to check out Ban Chok Dee Thai Cuisine Restaurant in Langley for lunch. I discovered a coupon for $10 off in my entertainment book so that was a good incentive to give this place a try. I had heard rave reviews about this award-winning restaurant so I had high expectations.
As we waited to be seated I admired the unique authentic décor of the restaurant. The dining room was very intimate with red walls and dark wood. The perfect setting for a romantic date night. After a quick trip to the washroom before being seated I was pleasantly surprised to find a large washroom with a diaper changing table. Score! This restaurant being kid-friendly was a bonus as we were dining with our one year old.
After browsing the varied menu, we decided to start with the Garden Rolls. This starter seemed like a nice alternative to the regular starter salad we usually order. Shortly after ordering, six generously sized rolls served with hoisin sauce arrived at our table. Before my Husband could sample the rolls, I had to take a food pic because they were almost too pretty to eat! The rolls were stuffed with fresh crisp carrots, cucumbers, lettuce, onions, green and red peppers wrapped in rice paper with sliced prawns.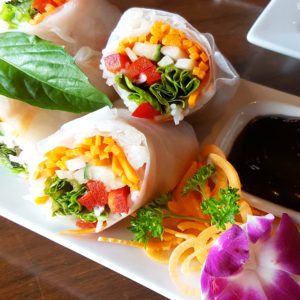 For our main dishes, we ordered the Pad Thai noodle dish and Panang Chicken Curry. Pad Thai is a very traditional Thai dish and I've eaten it several times but this was the best Pad Thai I had ever had. The pan-fried noodles were delicious in a sweet tamarind sauce with prawns, egg, tofu, green onions, bean sprouts, and topped with ground peanuts. The Panang curry was also very impressive. We chose the chicken which was simmered in a red Panang curry sauce with coconut milk and peas, sprinkled with kaffir- lime leaves and red bell peppers. The curry dish included rice but we decided to upgrade to a slightly healthier brown rice for an additional charge.


Finally, for dessert we ordered the F.B.I … and sure glad we did! Three pieces of deep fried bananas topped with coconut icy sweet gelato, chocolate syrup and a cherry on top – Need I say more!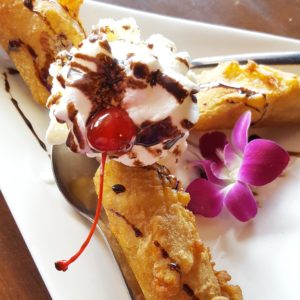 Overall we enjoyed our dining experience at Ban Chok Dee. The service was pleasant, the food was incredibly tasty, and the prices were very reasonable (don't forget to use your entertainment coupon.) They go above and beyond in the food presentation department. Topping every dish off with a pretty purple orchid is a very nice touch and appreciated by a Foodie like me.
Kudos to Ban Chok Dee Thai for exceeding all our expectations, we will be back soon to enjoy one of your signature tropical drinks on the patio!
Do you enjoy Thai Food ? What is your favorite Thai Dish ? Comment below.