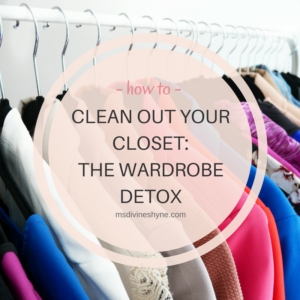 Do you ever look at your closet full of clothes and say to yourself, 'I have nothing to wear!' We have all been there. If your closet is an unorganized mess filled with items that don't fit and that you don't love, then there is no better time than now to clean out your closet by doing a wardrobe detox.
If you are anything like me, just the mere thought of cleaning out your closet is intimidating. Before tackling my most recent closet clear-out, I approached the task differently. I did some research online and found many new and refreshing tips that helped make the daunting task more enjoyable. On my mission to be minimal, I learned some pretty good tips and methods for making peace with letting go of things. It has allowed me to free up more space and feel more organized. The benefit of having the breathing room in my closet far outweighs the difficulties I had with parting with certain items. My minimalist closet now aligns with my simplistic and less cluttered life and I couldn't be happier. I hope you will put these helpful tips to use during your own wardrobe detox as they really do make the task easier.
The Vision
One of the first and most helpful things to do before cleaning your closet is fun and doesn't even require you to be anywhere near your closet! The first step is to create a Pinterest inspiration board.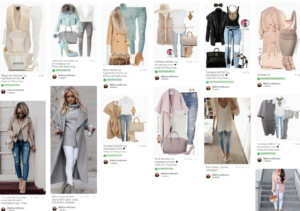 This board will allow you to streamline your vision and visualize your ideal wardrobe and style. To begin, do a 'Fashion' keyword search and start pinning outfit and fashion images that you absolutely love. Choose styles that you are attracted to and ones that are practical for your lifestyle and profession. Once you have pinned individual images, look at your board as a whole, it is very important not to just look at one picture. Ask yourself these simple questions:
What colors do you gravitate to?
What fabrics are you attracted to?
What is your style – dressy, trendy, casual, sporty?
Look at your fantasy board and the vibes you are getting from it and that's what you should see and feel when you look at your own closet.
Focus on Favorites
When attempting to do a wardrobe detox, it's very natural to start focusing on which items you want to purge first. Most people start the process this way and in doing so usually feel defeated and overwhelmed from the start. We have all been there, gazing at our closets with that blank stare on our face thinking 'Where do I start?' Letting go of stuff is a very difficult task. Nobody wants to part with anything that has sentimental value or things they have spent their hard-earned money on. We have this idea that if we give an item away, it's wasted money. In reality, if you don't use or wear the item then the money was already wasted when you purchased it. Sometimes we trick ourselves into holding on to things we haven't worn for years, in hopes that that one day we might need to wear it for that special occasion! Leaving such items to take up real estate in our closet for a little while longer somehow makes us feel as if we have unwasted the money.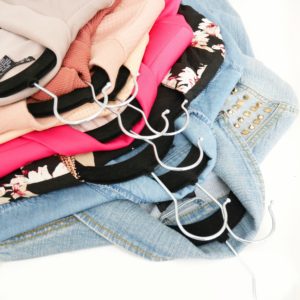 Using the reverse mentality and focusing on your favorites first is a game changer and far more effective. With this method, pick out your favorite pieces in your wardrobe. Things like the top you have already worn several times this week, your favorite pair of denim shorts that you live in or that sequin dress that you feel amazing in. The items you should be keeping are items that you undeniably love. Things that if you were going away on vacation they would absolutely be going in your travel bag because they are items that you love and wear all the time. If you hesitate on an item, the truth is you don't really love it and it's got to go. If you stop and contemplate about an item, then it also doesn't qualify. Ruthlessness is key when it comes to wardrobe clear outs. Evaluate items for their actual use, not potential use. Just because you have the space for tons of clothes doesn't mean you need to fill it.
Once you have made your favorites pile, set them aside and go back to your closet and take some time to evaluate the other items. I would suggest giving yourself ample time for this task and not to rush it. I can assure you that this is time well spent with a huge payoff in the end!
Try it on
Now that you have all your items sorted out as to what is staying in your closet you must try everything on. Yes, this is a bit tedious and time consuming but don't miss this step as it is very important. You don't always remember how your clothes fit you and what they look like on. Some things that you haven't tried on in a very long time might not fit you or your style anymore. You might be surprised to find that those old favorites might not look that great on you anymore because body shape and styles do change. When you are trying each piece on, ask yourself these questions to evaluate whether the item should stay or needs to go: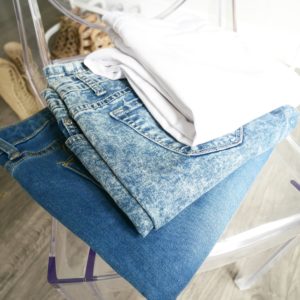 Condition of the item? Is it stained, ripped, snagged, is it worth repairing?
Color? Is the color flattering on you? Are you attracted to the color? Does it go with other items in your closet?
Flattering? Is the cut, fit or style of the item flattering on you? Does it highlight sections of your body that you want to accentuate?
Fit? Is the fit good? Is the item too loose or too tight? Is it worth altering?
Comfort? Do you feel good wearing the item? Is it comfortable?
Repurchase? If you were in a store and saw this item, would you repurchase this item?
Style? Does this item convey the style and vibe that you are going for?
We become attached to clothing in our closet because some items carry sentimental value. It's hard to let go, but if the clothing item is reflective of where you were from, not reflective of where you are going then it's time to let it go. You want to hone your style in to what you want to be and what you want to be growing in to.
Letting Go
Now that the hard decisions have been made, it's time for the exciting part of finding a new home for your unwanted clothes. You can give away these items to friends and family. You can donate them to a local women's shelter or if you have some items that are in good condition or luxury items you could try to sell them on a Facebook auction or your local consignment shop. In some cases, you may have a lot of clothes to get rid of but can't afford to buy new ones all at once. If you are in this situation, I suggest putting the unwanted items to one side of your closet in a bin. As you get the money to purchase a new item of clothing, move one unwanted article of clothing out.
Closet Aesthetics
If it is important to you, you can easily take some extra simple steps to improve the organization and overall look of your closet. One of the most exciting things for me during my last closet clean was the upgrading of my clothing hangers. I replaced all my plastic white hangers with black velvet non-slip hangers. I have always struggled with clothes falling off my plastic hangers so I made the decision to switch to velvet hangers. Wood or velvet hangers are non-slip, space saving, more aesthetically pleasing and make your closet look more organized and uniform. They are affordable and very durable.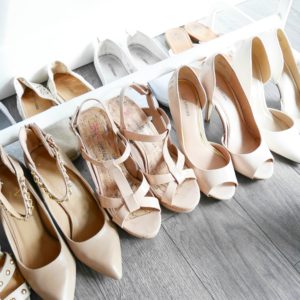 I like to sort my clothes on the rack by clothing item and then by color. I start with sleeveless tops starting with the lightest color shade to the darkest. Having your clothes sorted in categories – tops with tops, blazers with blazers, skirts with skirts makes things so much easier when trying to find something to wear in your wardrobe.
Shoes and Accessories should be organized following the same methods described above. Shoes can be on display visually in your closet, on a shoe rack, a shoe cubby shelf system or sometimes people like to keep their shoes in the original box. Same goes with Accessories, you can visually display them in a jewelry box or store them away in a jewelry cabinet organizer.
Re-evaluate
The last step is to plan a future date to re-evaluate your wardrobe again. When you downsize your wardrobe for the first time you generally hold on to a few more items than you should because you convince yourself that you are going to start wearing those items. When you go back to your closet in a few weeks' time, you will realize that you were probably fooling yourself and should probably just get rid of them anyways. A great way to keep track of what you wear often and what you don't, is to turn your hangers backward so the hanger is hooking around the back side of the rod in your closet. When you wear an item hang it back up the right way. This allows you to visually prove to yourself which items of clothing you really aren't getting any use out of.
Cleaning out my closet prior to each season is one of the most rewarding things I can personally do for myself. After each detox, I go into my closet and love everything; everything fits well and I can visually see everything I own. I have never looked back and missed any of the items I have gotten rid of as I am too busy appreciating all the extra space in my closet. Mornings are so much more stress-free and pleasant for me since this process.
Now, its your turn! I hope you feel inspired and ready to conquer your own closet. I want to know what works for you? Tell me what your favorite tips for decluttering and downsizing your closet are? Comment below.
If you lack motivation to clean check out my How to Get Motivated to Clean post.