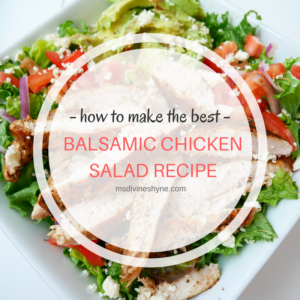 Balsamic Chicken Salad
This colorful, main dish salad topped with grilled chicken in a honey-sweetened balsamic vinaigrette is a real lifesaver when time is of the essence. It is perfect as a filling lunch salad that will leave you full through the afternoon.
Ingredients
Balsamic Marinade:
⅓ cup balsamic vinegar
¼ cup olive oil
2 tablespoons water
2 teaspoons italian seasoning
2 teaspoons minced garlic
1 teaspoon honey
½ teaspoon salt
4 skinless and boneless chicken breast fillets
Salad:
8 cups mixed salad lettuce leaves
2 tomatoes, chopped
½ red onion, thinly sliced
2 avocado, sliced
¼ cup feta cheese
extra italian seasoning
salt and pepper, to taste
Instructions
Whisk balsamic dressing/marinade ingredients together until well combined. Pour 2-3 tablespoons into a shallow bowl. Add the chicken and coat evenly. Season with salt and pepper; set aside for 10 minutes.
Cook chicken in frying pan until crisp and cooked through (about 10 minutes each side).
Arrange all salad ingredients in a large bowl. Top with chicken, avocado and sprinkle with crumbled feta, extra Italian seasoning and salt and pepper to your taste. Drizzle with the remaining dressing, and serve.
Enjoy!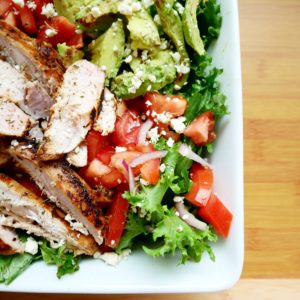 Need a quick & easy healthy breakfast recipe ? Look no further – Healthy Yogurt Parfait Bars.